Reflections Audio CD Detail:
0016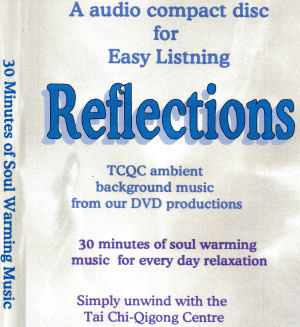 £9.99 now on *SPECIAL OFFER*

Only £6.99 - All time low price - Save £3.00
A unique audio CD from the Tai Chi Qigong Centre, designed for easy listening.
30 minutes of soul warming music for every day relaxation.
Sit back in your favourite chair and simply unwind with reflections after a stressful day.
Blissful ambient soft music like you've never heard.
Up lifting music to rejuvenate your internal energy from the sound track of our instructional DVD's.
Especially commissioned and professionally digitized.
Postal advice:
United Kingdom: FREE (Royal Mail 1st class next day delivery).
Overseas: International track + Sign For on delivery.

TCQHC Copyright 2000