Completely relax with us audio CD Detail:
0009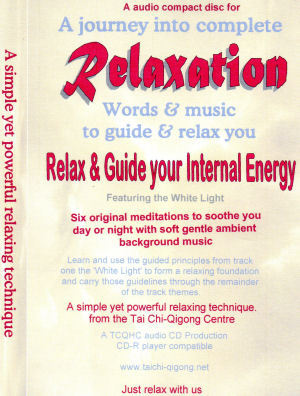 £9.99 now on *SPECIAL OFFER*

Only £7.99 - All time low price - Save £2.00
(This CD is Free if you become an Home Study & Internet Member.... More
A journey into complete relaxation. Experience this simple yet powerful relaxing technique with Colin & Mitzi Orr - Senior instructors - Tai Chi Qigong Centre. Six tracks of imaginary but original meditations to soothe you day or night with soft, gentle, ambient background music.

Unwind and find peace. Let Colin and Mitzi the TCQHC Snr. Instructors guide you into pure relaxation.
Make yourself comfortable choose a track and just listen and completely relax with us.
Learn and use the guided principles from track one the 'White Light' to form a relaxing foundation and carry those guidelines through the remaining five tracks.
Title tracks are:
The White Light
A Walk Along the Beach
The Night Sky
The Waterfall and the Bridge
Oak Creek
Thunder Storm (a walk in the rain)
Experience the words and music on this unique CD recording.
Postal advice:
United Kingdom: FREE (Royal Mail 1st class next day delivery).
Overseas: International track + Sign For on delivery.